| Home | Back to Ranchu | Back to Goldfish |

CHINESE RANCHU 1
Mature adults

This picture was taken in Hong Kong in December 2000; large, red-and-white variegated and self-coloured red fish are shown.
The fish below were photographed in Hong Kong, December 2003.
Red metallic ranchu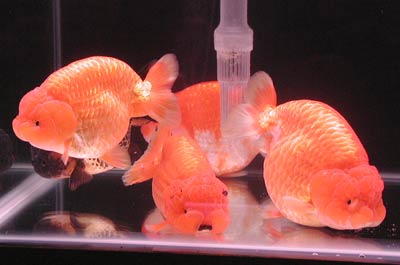 Typical, high-quality Chinese ranchu with very good colouration and hood growth, and a very smooth, well curved dorsal contour.
Red-and-white ranchu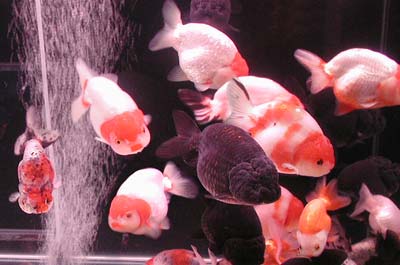 Ranchu with red head and white body, white head and red body, and variegated red-white colouration; the quality of the colour patterns is very high (balanced patternation, front-and-rear and left-right). Also calico and self-coloured black ranchu.
Lionhead amongst various ranchu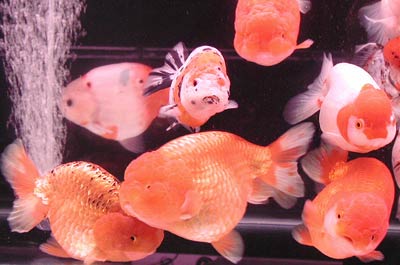 Bottom centre is a red lionhead amongst various ranchu, providing an opportunity to distinguish the two types: the lionhead has a flatter dorsal contour and an obtuse angle of join with the upper lobes of the tail fin at the caudal peduncle (see Glossary).
In fact, breeders report that both ranchu and lionheads can be obtained from a single spawning from the same parents, illustrating that there is a continuum of form seen in these types.
Calico and red-white ranchu
Notice the balance of colour in the calico fish and the balance of pattern in the red-white metallic fish.